The Lords' final event of 2018, the Ice Storm Social, was my first attempt at organizing a charity MTG tournament. Since I missed Eternal Weekend this year but still needed to scratch that Old School itch, I decided to use my beer industry connections to line up Lagunitas. We rented a killer lounge space at their brewery, located in Chicago's Pilsen neighborhood, and everyone seemed to love Willy Wonka-inspired decor. Thirty three gnarly mages from around the Midwest and from as far away as Nashville participated. Beer sales from our event benefited the Jack Vasel Memorial Fund and our thirsty crew raised over $1,000! Again, thank you to everyone who came out to raise their glasses and raise some money for a great cause.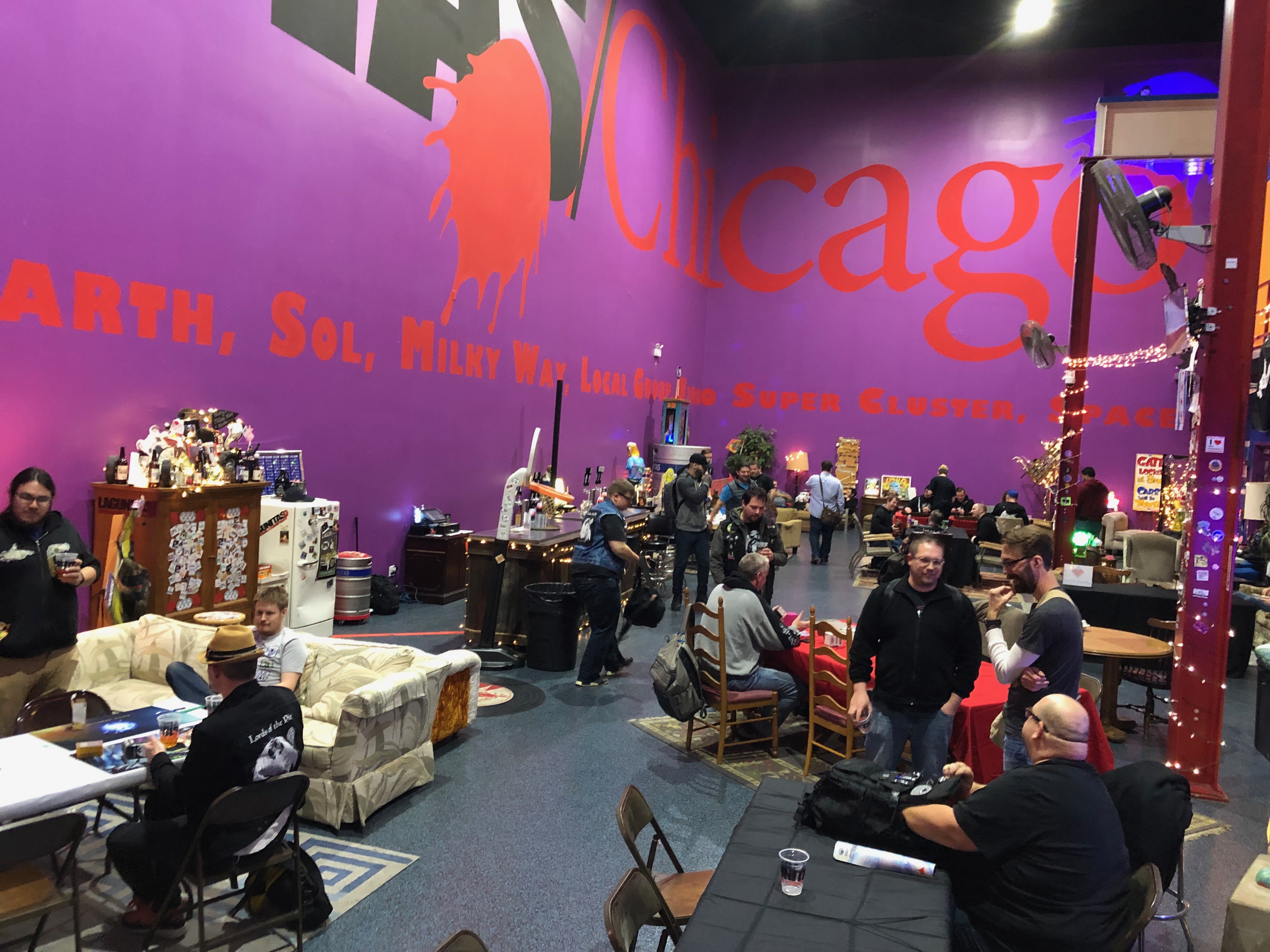 It seems I'm always finishing my deck at the eleventh hour before tournaments. While sipping Weller Antique 107 Barrel Pick and contemplating Erhnamgeddon for the fifth consecutive event, I decided to take a different path and play some Naya Zoo at the Social. Regardless of the deck I choose, it seems I have a knack for finishing 3-3, which happened again on this day.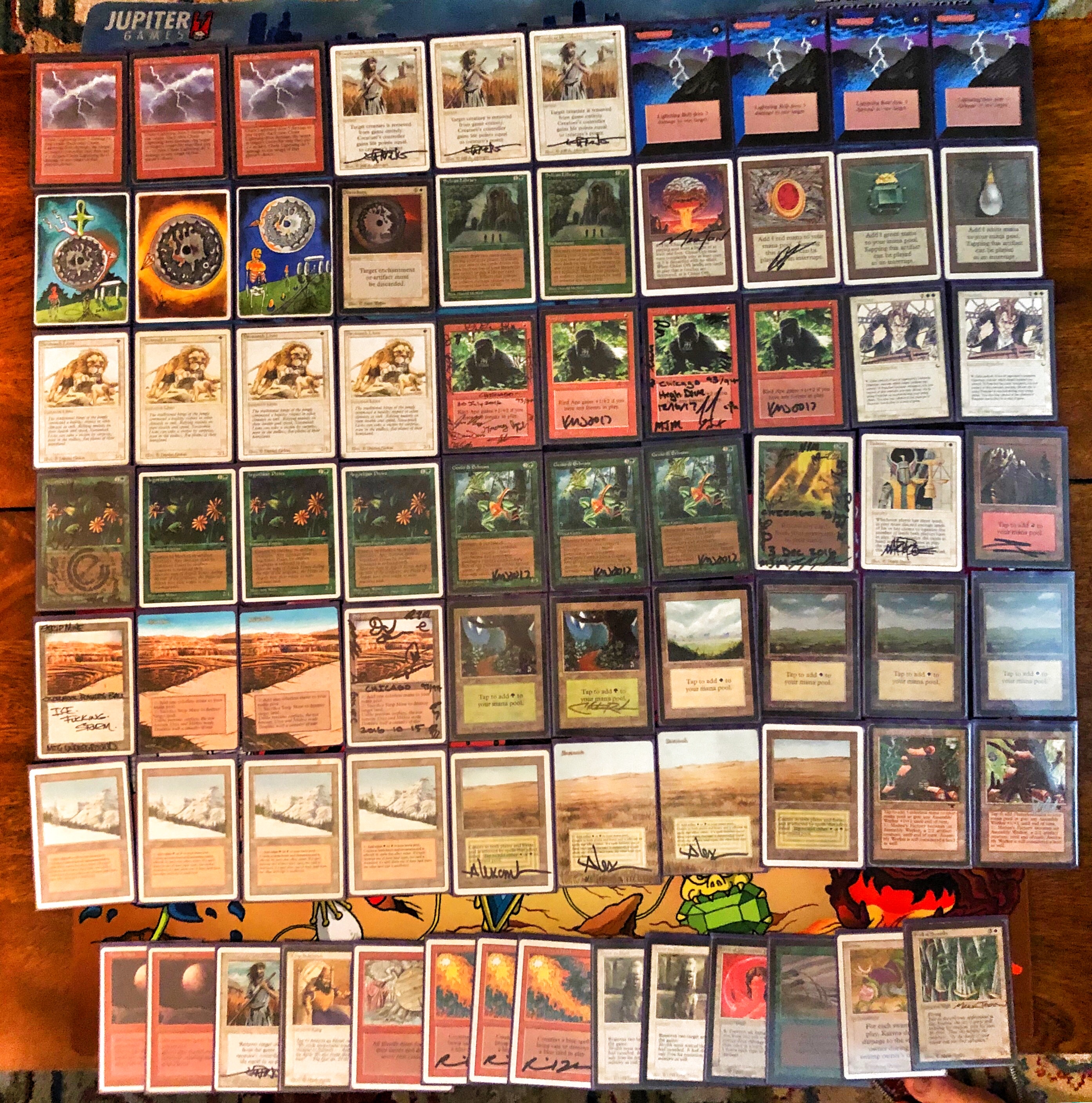 Round 1 vs. Shane (1-0)
Shane and I took the L to the event together and discussed our lists on the ride, so of course we were matched in Round 1. He was on a prison deck. In Game 1, I drew three Strip Mine and Shane couldn't keep up with my swarm of creatures. Game 2 had much more interaction: my multiple creatures versus Shane's multiple lock pieces (Abyss, Icy, etc.); I didn't get Disenchants or Dust to Dust and he got there. Game 3 was fast and I won with creatures and burn. Earthquake would've blown me out if he had it but it was still fun to play some games with a fellow Lord.
Round 2 vs. Luke (1-1)
Luke was on Tax Edge combo. I needed Disenchants and burn to beat him but only saw them in G2 while losing G1 and G3 to the combo. Mana was my biggest issue this match as I was off-color and didn't draw the right spells. I recently sold my Plateaus and didn't feel like borrowing so I just played Plains in their place. There were a couple games where I wished for that extra red for a Chain or Bolt. So it goes.
Round 3 vs. Andy (1-2)
This was my most memorable match of the day only because of how G3 ended. Games 1 and 2 were mid-range beatdown games where whomever played the most creatures was victorious. Then in G3, I lost to an end-of-turn Bolt followed up with Channel + Disintegrate. I melted into a pile.
Round 4 vs. Nick (2-2)
Nick was on some brew featuring Dingus Egg shenanigans. He was the only person I encountered actually playing Ice Storm! Luckily my deck can run on few lands so, despite Nick's valiant effort, I was able to get there. Game 2 saw me deal six damage with Strip Mines thanks to an Egg.
Round 5 vs. Tim (3-2)
Tim was on a control deck that was heavy Black with Blue for Power, Counterspell and Control Magic. I took G1 with quickly cast creatures, then in G2 he took complete board control and beat me down via Factory supremacy. We went to time in G3 and I won the match with Chaos Orb flips, which was nice after having lost my previous two flip-offs.
Round 6 vs. Joe (3-3)
We played Round 6 at a coffee table like when I was young and hanging out in my best friend's basement. Fast-forward and now I'm older and can't sit cross-legged as long. Joe was on a Trolls list and G1 went back-and forth until I was Fireballed for eight to the dome. In Game 2, I mulled to six cards, took zero damage and got there with my critters, then Game 3 came down to the wire. I got Joe down to three lives but couldn't draw a winning threat for four turns and he eventually got there.
I finished 3-3 just as I anticipated. The games were fun, the beer was refreshing and the company was great as always. At every Old School tournament I attend, I'm always surprised by the new faces and enthusiasm the format brings.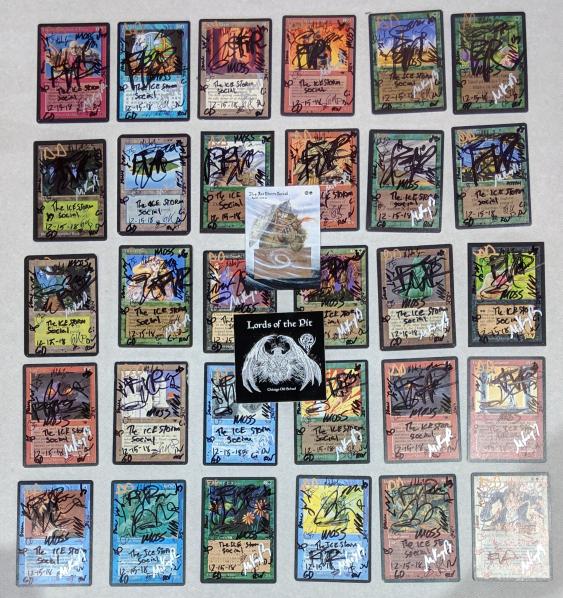 The Ice Storm Social was another Old School success for the Lords of the Pit and friends. Our very own Ron Longhi (Mono Black) and Carter Petray (Slot Machine) met in the finals with Ron finishing atop the standings. I had a great time setting everything up and I want to give Nathan Mullen a huge shout out for administering the tournament. I couldn't have done it without him.
Until next time.
~ Grant